3 Day Workshop – Jasper, AB
June 18 – 20th, 2015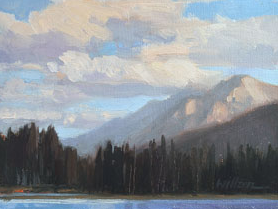 Painting outdoors is an extremely challenging and rewarding way to build your skill as an artist. With practice it leads to a deeper understanding of value and colour that cannot be learned painting from photographs. During my 2010 project to paint 100 plein air paintings in 100 days, I learned several valuable lessons about how to approach outdoor painting in a way that makes it manageable and sets the stage for success.
During this course we will paint in several locations in the Jasper area. The focus will be on exercises that help to build skill and speed, as well as key ideas about how to simplify the countless elements in front of you, eliminating all but the essential to create a cohesive, compelling design. We will also discuss aerial and linear perspective, as well as aspects of value and colour used to create depth and mood, and important compositional considerations when selecting a subject.
"Art is the transmittable, personal impression of one quality in the quantity before us. It is the ability to determine consciously what it is that interests him, and why, that differentiates the artist from the art student." – John Carlson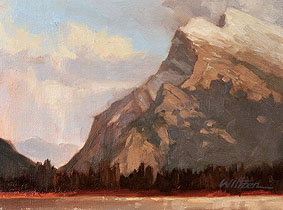 Please contact Louise Hall at Leading Edge for cost and registration info:
Phone: (403) 233-7389
Email: louise.hall@shaw.ca