August 31st – September 4th, 2015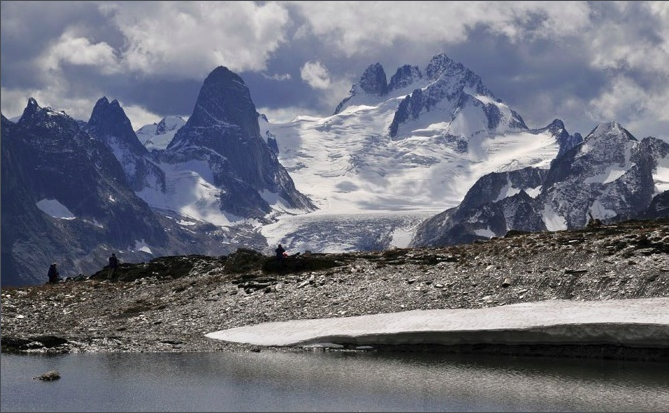 After working for over 10 years as a heli-hiking guide for Canadian Mountain Holidays in many of their secluded mountain areas, the one that remains closest to my heart is the spectacular Bugaboo region of the Purcell Mountains. My time spent leading clients through this challenging and awesome terrain has given me intimate knowledge of the beauty and inspiration that abounds here.
In September 2010, Robert Genn and I taught an inaugural plein air workshop in the Bugaboos. We used the helicopter to lift us quickly (3000 vertical feet in less than 10 minutes) to high, stunning vantages. It was a life changing experience for many, the trip of a lifetime for others, and a unique painting opportunity for everyone involved. In 2013 we completed our 4th annual trip, and each year it gains in popularity.
Shortly after our 2013 trip, Robert was diagnosed with cancer. We discussed at length what direction we wanted heli-painting to take from here, and determined that we felt very strongly it was a distinctive workshop experience that should continue.
In 2014, Stephen Quiller joined me to carry on the tradition of bringing artists into this majestic place to connect with the mountains and stretch themselves as painters.  Stephen is a very accomplished studio and plein air artist who has taught painting to hundreds of students, and has developed a proven approach for creating transformative shifts in the students he works with.
We are excited to be leading this transformative workshop again in 2015. Our goal is to continue to share with you a remarkable painting experience, and send you home with records of time spent in very sacred, magical places – stories in brushstrokes that will most certainly last a lifetime.
Heli-painting is a rewarding and challenging experience that can't help but grow you as a painter – it has become a "bucket list" opportunity for adventurous artists looking to expand their range while connecting with like minded souls. If you'd like to join us this year – please click here for full details and booking information.
Photo Gallery:
2010 heli-painting trip photos
2011 heli-painting trip photos
---
A Highly Unique Workshop Experience:
Our trip begins with a day of plein air instruction in Banff, AB.
Stephen and I have co-created a bonus day of plein air instruction prior to heading into the backcountry for our heli-painting adventure. This is an opportunity to connect with your fellow painting comrades and your instructors – and to get fully in gear and ready for your fabulous heli-painting experience.
We will be taking you through 6 hours of hands-on instruction covering all the essential elements you'll need to be focused on in order to get the most out of your time spent painting plein air.
Areas covered will include:
managing your gear
choosing your subject – finding a powerful design/composition
determining the important elements to consider and get down first
beginning with an intentional, focused approach
considering what might trip you up before diving in and having a strategy to manage it
how to make colour and value choices that support you in creating a strong painting
what to put in and what to leave out
keeping it fresh and vital – not overworking
We will break the day into two 3 hour sessions to make the most of the best times of day for light. The hours will be 9am until noon and 3-6pm on Wednesday, September 3rd.
This schedule also gives you the option of arriving in Banff the evening of the 2nd to take full advantage of the bonus workshop day, or flying in on the morning of the 3rd and joining us only for the 3-6pm session. Either way the extra instruction time will be a valuable foundation for your trip.
---
Next Stop – Heli-Painting:
On the morning of September 4th we board CMH's transport to the heli-pad, and the start of our backcountry painting adventure.
Once at the lodge, our 3 workshop days will include flights to spectacular painting locations during the day and engaging fireside conversations in the evenings.  Each day the helicopter will lift us to uniquely breathtaking locations. Throughout the day we will work on developing our skills as painters. We will discuss the elements to consider when trying to fit the whole, wonderful outdoors within the 4 borders of a canvas, including important aspects of color, value, design, and technique.
Stephen and I will be doing painting demos and offering you exercises to target specific painting challenges, and we will be available to you for guidance and instruction throughout the day. You will benefit from taking on challenges outside of your comfort zone – and connecting with the deeply rewarding experience that can only come from standing in the landscape painting directly from life.
The evenings will be centered on camaraderie and relaxation. Upon arriving home at the cozy and luxurious Bobbie Burns Lodge, you will be greeted with savoury post-painting snacks and refreshments. There will also be time for a hot shower, or a massage with the lodge's therapist, followed by an evening gourmet meal. Afterwards, we will settle in together to share ideas and talk art – this is your opportunity to further deepen the learning from your days out.
If you want to talk directly to Stephen about this workshop, please phone (719) 588-5313.
If you want to talk directly to Liz, please phone 403-763-9035.